Media
Our mission is to change the world one heart at a time by helping people live their best lives with their soulmate by their side.
Because we want to touch as many lives as possible, we do, from time to time, accept media appearances and interviews.
If you are from the media, or simply interested in keeping in touch with our latest media appearances, this page is for you.
Johnny & Lara
Media Appearances
As Seen In:



Johnny and Lara Interview on Bay Area Vista with Janice Edwards
"How To Attract The Love Of Your Life"
Johnny, Lara and Isabelle Interview on ABC News with Father Edward
Beck "Having a Meaningful Christmas"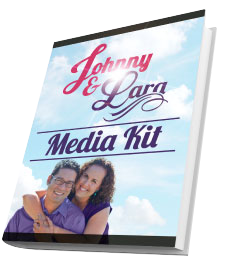 Media Kit
Our Media Kit includes a brief bio, links to high-res photographs, topic lists, sample questions and more.
Media Inquiries
To inquire about our availability for interviews and other media, simply complete this inquiry form.